The Iron Witch by Karen Mahoney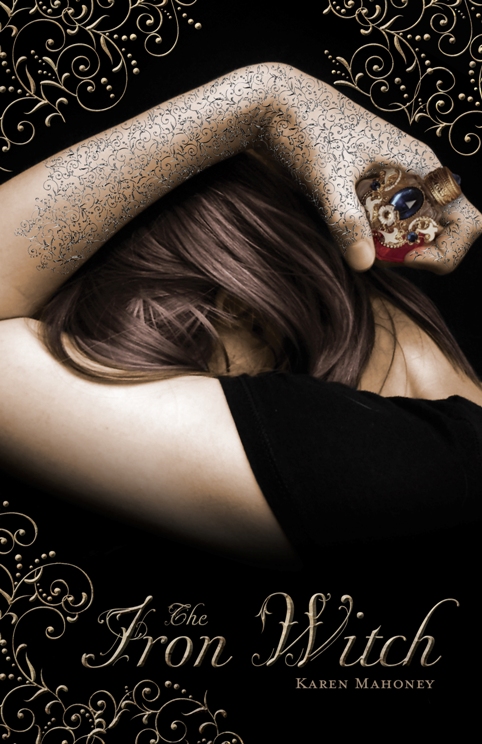 Freak. That's what her classmates call seventeen-year-old Donna Underwood. When she was seven, a horrific fey attack killed her father and drove her mother mad. Donna's own nearly fatal injuries from the assault were fixed by magic—the iron tattoos branding her hands and arms. The child of alchemists, Donna feels cursed by the magical heritage that destroyed her parents and any chance she had for a normal life. The only thing that keeps her sane and grounded is her relationship with her best friend, Navin Sharma.
When the darkest outcasts of Faerie—the vicious wood elves—abduct Navin, Donna finally has to accept her role in the centuries old war between the humans and the fey. Assisted by Xan, a gorgeous half-fey dropout with secrets of his own, Donna races to save her friend—even if it means betraying everything her parents and the alchemist community fought to the death to protect.
For starters, the cover is just insanely
gorgeous
. I am in love with it. The gold swirls and the font. Breathtaking. The premise sounds great too. I have very few, if any, novels with fairies in so it really intrigues me. We have a mention of a
gorgeous
half fey guy (yay) and there is just a mysterious feel to it.
The book comes out TOMORROW in the UK and the 25th of January in the US (I think). I make no promises about the US release date. Sometime between the 25th and the 8th of Feb. I will be rushing to buy it tomorrow, if my mother will let me spend any money. I suggest you pre order it or buy it as soon as it comes out! GO!