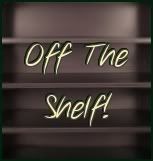 Off the Shelf Challenge is hosted by
BA Reading Challenges
. The challenge is to read the books you already own, that seem to be multiplying every time you blink. I know I have such a problem with this. I love buying new books and then I seem to not read them, not because I don't want to, but because I want to buy more.
There are five levels for the challenge. I'm going to do Making A Dint which is to read 30 books. That is probably the amount of books I own but haven't read yet so it seems like a good amount. The challenge runs from 1st January - 31st December 2011 and you can only use books that you bough BEFORE January 1st. However, if you don't own many books but a TBR pile that you are drowning in, you can read books off that as long as you don't add any books after the challenge has begun.
Below is a basic idea of what I plan to read but I will probably add to the list or change it slightly. The list will also be posted in the challenges page at the top of my blog. They aren't all YA books but most of them are, just so you are aware.
1. Crescendo by Becca Fitzpatrick
2. Revolution by
Jennifer Donnelly
3.
Clockwork Angel
by
Cassandra
Clare
4. The Luxe by Anna Godberson
5. Ruby Red by Linzi Glass
6. Boys Don't Cry by Malorie Blackman
7. A Gathering Light by Jennifer Donnelly
8. The Book Thief by Markus Zusak
9. The City of Bones by Cassandra Clare
10. Hate List by Jennifer Brown
11. Perfect Chemistry by Simone Elkeles
Well that is my list for now. It is a fabulous challenge so have a think about joining in :)