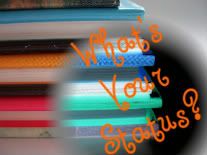 What's your Status? is a weekly meme that allows you to sum up your week in reading, saying what books you've read, finished, started, not finished etc.
Finished:
Beautiful Creatures by Kami Garcia and Margaret Stohl
SO AMAZING! I finished it this morning. I don't think I've ever read a book with so much going on. The pace was intense and I was constantly like :O. I should have a review up next week.
Currently Reading:
Catching Fire by Suzanne Collins
Well by started I mean I shall start today. You guys voted for me to read this next and I am so so so excited to read it. I've been waiting with anticipation to find out what happens next!
Added to To Read Pile
Sea
Heidi R. Kling
The Karma Club
Jessica Brody