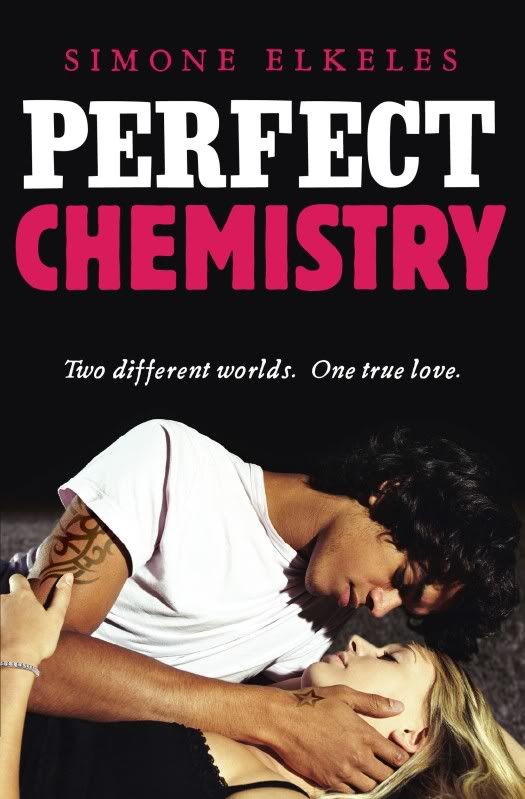 Title: Perfect Chemistry (Perfect Chemistry #1)
Author: Simone Elkeles
Pages: 368
Release Date: January 1st 2008 (US)
Publisher: Simon and Schuster
Source: Bought
When Brittany Ellis walks into chemistry class on the first day of senior year, she has no clue that her carefully created "perfect" life is about to unravel before her eyes. Forced to be lab partners with Alex Fuentes, a gang member from the other side of town, Brittany finds herself having to protect everything she's worked so hard for - her flawless reputation, her relationship with her boyfriend and, most importantly, the secret that her home life is anything but perfect. Alex is a bad boy and he knows it. So when he makes a bet with his friends to lure Brittany into his life, he thinks nothing of it. But the closer Alex and Brittany get to each other the more they realise that sometimes appearances can be deceptive and that you have to look beneath the surface to discover the truth.
I bought this book a few months before I started my blog. I hadn't seen book blogs before nor did I really read reviews. It popped on Amazon as a "People who bought ...... also bought Perfect Chemistry" It looks cheesy yet I bought it anyway and just put it on my shelf, not giving it a second thought. What a mistake! Amber told me I just had to read it so I did. THANK YOU AMBER!
On the surface it is a love story. Romeo and Juliet style. A perfect popular cheerleader and a bad boy gang member. Not so original. But it was so much more than that. It felt really personal, like I was watching these intimate moments.
The characterisation was sublime. Brittany and Alex, on the surface, are so very different but underneath they are the same. Trying to pretend they are something they are not. The constant contrast, slowly slipping in to similarities was so effortlessly done. Everything just had a natural flow about it. They were far from perfect though. There is little I hate more than a 'perfect' character. No flaws. Always making the right choices, always getting things right. It is just not normal. Brittany and Alex were normal though. They had very definite flaws but it made me love them more!
And can I just say that it was HOT! I did feel like I needed to fan myself a little at times. There was definitely Perfect Chemistry :P Elkeles manages to build up that chemistry. She had a knack for writing romance.
The incorporation of their home lives was hugely important. These made it so much more than a love story. It really built them as characters. The relationship with Brittany and her sister and her selfless love for her. Alex and his protective nature when it came to his family. It helps me to get an all rounded picture of them.
The alternating points of views really took the novel to the next level. The ending of chapters were at pinnacle points especially in scenes involving the two. It meant the reader could see the POV of both characters at the same moment, seeing their immediate thoughts in relation to the event. Very effective.
It is so wonderfully written, great structure, fabulous characterisation and just a damn good novel. It takes great skill to take an overdone subject matter, put your own spin on it and make it great. Simone Elkeles has talent! Pure talent!
5 out of 5 stars